Feature
The War Cry Themes: 2021
"Let us move boldly into a new day by sharing what God is doing in the world, for God calls us to proclaim His love for all and to redeem the time."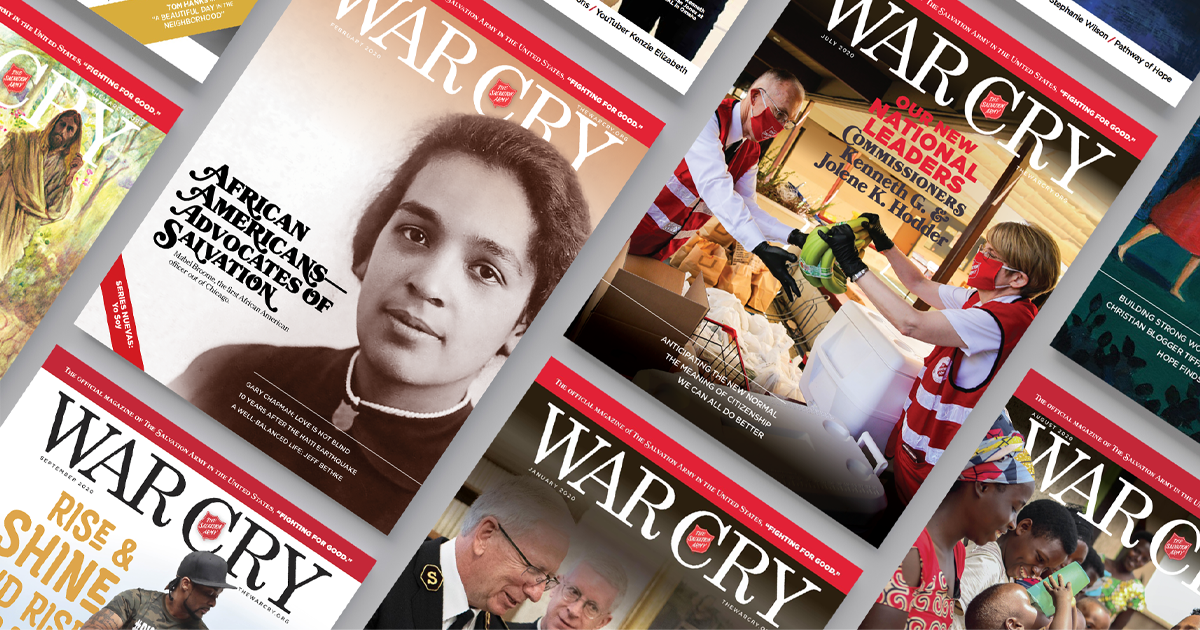 The War Cry represents the Army's mission through news, profiles, commentaries and stories. It looks to bring people to Christ, help believers grow in faith and character, and promote redemptive cultural practices from the perspective of Salvation Army programs, ministries and doctrines. We welcome submissions from officers, employees, friends of the Army and freelance writers. Submissions could address, but are not limited to, the topics planned for coverage in the coming year.
January: The War Cry Past, Present and Future

Honoring the 140 years of The War Cry, one of the longest-running, continuous publications in the U.S., tracing its growth and change from William Booth's original vision through its many upgrades in format, content and distribution.
A survey of notable editors, writers and staff members through the decades.
Current editorial practices and network of editorial, design, production, circulation and distribution personnel.
Vision for The War Cry in the years ahead—as part of an integrated mix of communication channels advancing the mission and message of the Army from a national perspective.
Why the name The War Cry?
Roll out of new circulation plan.
February: Love Through the Ages
Epic love stories in The Salvation Army, from the founding to today.
What love has to do with dating, marriage, family and society today.
The Army's understanding of the Love of God and what it means for living life pleasing to Him.
March: Good versus Evil/Temptation
The reality of temptation and how to avoid it.
Stories of people struggling with temptation and how to do the right thing.
Examples of God's mercy, forgiveness and call to obedience.
Practical explanation of spiritual warfare.
April (special Easter edition): The Centrality of the Cross
Overcoming Betrayal—Jesus was betrayed when he was put on the Cross, yet He didn't stoop to His accusers' level. The hurt He must have felt, yet He didn't give that hurt back.
When the cock crows—How to cope when a relationship goes south, with being ghosted/rejected, with shame, etc. Coming to Jesus as we are.
Doctrine of atonement in layman's terms.
May: Multicultural Ministry
Diversity of The Salvation Army's reach in the U.S. (Atlanta, San Jose, Ft. Lauderdale, etc.).
June: Pursuit of Happiness
The true meaning of happiness.
What constitutes true success in life?
Honoring commissioned cadets and graduates.
How to handle life's transitions.
July: Leadership and Power
Qualities of a good leader.
Examples and stories of good leadership in action.
Leadership styles portrayed in the Bible.
August: Harnessing Our Emotions
How to deal with jealousy: Overcoming the desire to want what we can't have.
The importance of emotions in holistic ministry: Nurturing mind, body and spirit.
God's emotional nature and our godly emotions.
Prison ministry (ACA Conference).
September: Courage and Perseverance
Everyday superheroes.
20 years after 9/11.
Lessons from the pandemic.
What makes a hero?
October: Deep Grace
Superficial vs. substance: How does one go deeper in the water of faith?
Appearance vs. reality: Dropping our masks to reveal who we really are in God's sight.
Living authentically: Who are we when people can't see us? How do we serve Him when no one is watching?
The pitfalls of materialism and social media.
Stories of people who did things with grace and humility.
November: When to Ask for Help
Coming to terms with depression, anxiety and fear.
No shame in reaching out for a helping hand.
Examples of how The Salvation Army can be that helping hand.
Mental health and the holidays.
December (special Christmas edition): Deliverance
The Incarnation is for today: In Jesus is true freedom.
Giving: God's precedent for humankind.
What if Jesus wasn't born?
Family traditions in the 21st century.
Note: We also accept queries detailing a proposed subject/theme/profile you would like to cover. Send your query to usn.publications@usn.salvationarmy.org

---
Audiences to reach with this monthly messenger of faith, hope and love include:
Officers and cadets
Soldiers, recruits and adherents
Advisory board members
Clients
Friends of the Army
Volunteers
Employees
Women's Ministries members
Bible study members
Seniors and others contacted through outreach and visitation programs
Distribution methods include:
Thrift stores
Adult Rehabilitation Centers
Ray and Joan Kroc Community Centers
Kettles during the Christmas season
Doctors'/dentists' offices, hospitals
Local stores, community centers, town halls, counseling services, public libraries, police stations, fire departments & other organizations
Mailed to advisory board members
Correctional Institutions
"Now is the day of salvation. Let us move boldly into a new day by sharing what God is doing in the world, for God calls us to proclaim His love for all and to redeem the time."

TO READ, TO SHARE, TO SEND
The War Cry reaches a national audience with articles, stories, reports and perspectives that introduce people to the love of God, foster spiritual growth and further the mission of The Salvation Army. This national audience includes a core readership of Salvationists who value the magazine for informational and inspirational content.
The Word of God is central in the Army's ministries—ministries that combine spiritual and social expressions in serving humanity. The War Cry gives voice to the essential nature of the Army's mission and has introduced countless people to God's Living Water while addressing a host of needs in Christ's name.
Much thought, prayer, effort and skill goes into creating each issue so this unique tool can be used to build the Kingdom of God.
The special Christmas edition of The War Cry is now being distributed in time for Salvation Army units to use it for holiday programs, outreach efforts and ministry aversions. Additional copies are available for special order.